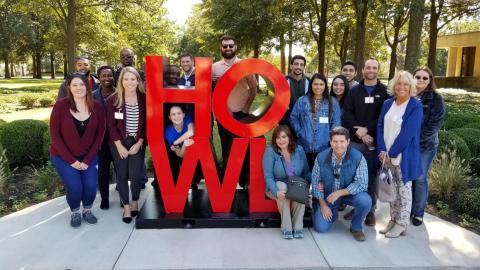 October 17, 2019--Jonesboro Unlimited hosted our largest Get To Know Jonesboro tour yet!  
On October 17, we took twenty-one Jonesboro newcomers and gave them a day they won't soon forget.
The class of Fall '19 was made up of industry professionals from Nestle, Nice-Pak, Unilever, Apex Tool Group, FMH Conveyors, Hytrol, and Frito-Lay.
The Get To Know Jonesboro tour started in the Spring of 2018.  Jonesboro Unlimited's Shelle Randall had an idea: invite manufacturing professionals who were newly relocated to Jonesboro and give them a day to immerse themselves in things that are unique and special to Jonesboro.  No powerpoints, no lectures, just great information and a load of fun!
"Thank you so much."
"It was a wonderful experience."
"It was a great networking opportunity."
That was just some of the terrific feedback we received following the day which included several stops that not only informed our newest neighbors but gave them a chance to make some new friends and explore.
The day started with a quick tour around town, highlighting some important roads and places to know, like where to get your new driver's license and assess your car.  We also paid a visit to the Crowley's Ridge Nature Center to learn about the heritage of Jonesboro, the importance of conservation, and our love for the outdoors.
Other highlights included a walk to Craighead Forest Park, Lasertron at Hijinx, and lunch at Eleanor's. We even stressed the importance of volunteering in Jonesboro with a stop at the Food Bank of Northeast Arkansas where we boxed up 8,350 meals in about 15 minutes! That took some serious teamwork!
After all that, we threw them a tailgate party at Centennial Bank Stadium before the A-State game with some great catering by Bistro On the Ridge and tickets to the game.
The goal of the Get To Know Jonesboro tour comes from a belief that if we can help Jonesboro newcomers make great connections right away, it will increase the likelihood they will want to stay in Jonesboro and raise their families.