Location, Location, Location. Centrally located in the United States, Jonesboro provides an exceptional transportation network for companies doing business in our city.
Global Accessibility. Whether you are traveling for business, shipping product or receiving raw materials, Jonesboro can deliver the services you need to be successful on a global scale. 
We are located on I-555 for smooth access to I-55.
Jonesboro is located within one hour's drive of the nation's distribution center – Memphis, TN.
There are 42 motor freight carriers that service Jonesboro, with 17 local terminals.
Jonesboro Municipal Airport offers commercial flights to St. Louis Lambert International Airport with Air Choice One as well as providing customized travel service through charter and landing service for corporate aircraft.
Memphis International Airport is just 74 miles, with daily commercial flights from all major carriers.
Jonesboro is home to two Class One Railroads – BNSF and Union Pacific.
The Port of West Memphis and the Port of Osceola are easily accessed via I-555 and State Highway 18.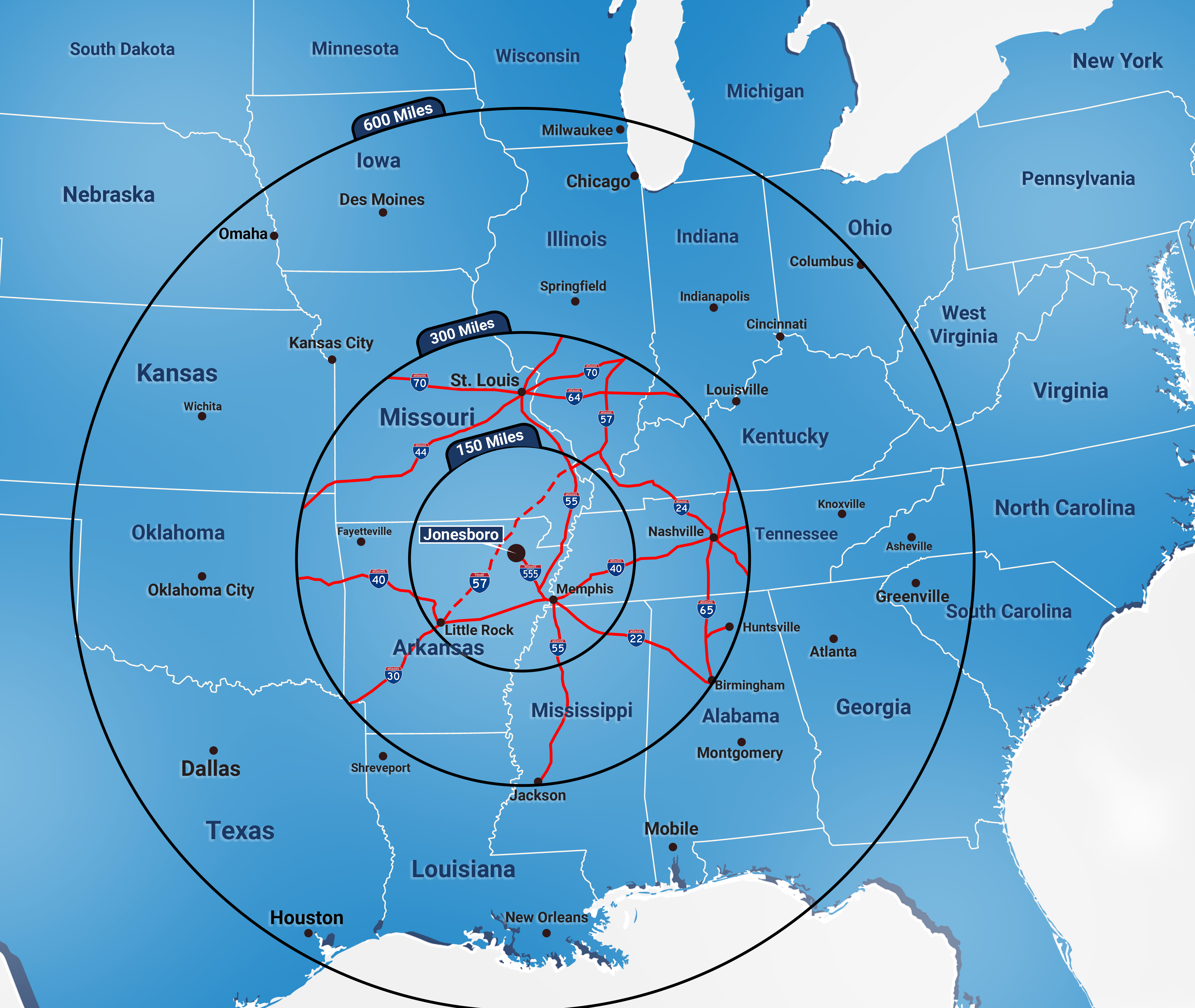 HIGHWAYS AND MOTOR FREIGHT

Interstate Highways U.S. Highways

U.S. 49
U.S. 63
U.S. 67 (20 miles)
U.S. 412 (17 miles)

Arkansas State Highways

State Highway 1
State Highway 18
State Highway 141
State Highway 163
State Highway 226
State Highway 351
State Highway 463

AIRPORTS

Jonesboro Municipal Airport

Daily flights to St. Louis Lambert International Airport provided by Air Choice One. 
Two paved, lighted runways to accommodate corporate aircraft with lengths of 6,200 ft. and 4,099 ft.
Local FBO service provided by Arkansas Air Center, Inc. Visit them for details on fuel, GPU, crew cars, catering, and professional line service

Source: AirNav.com
Memphis International Airport
Located just 74 miles from Jonesboro, Memphis International Airport is served by:

Major Carriers:

Air Canada
Allegiant Air
American Airlines
Delta Airlines
Frontier Airlines
Southwest Airlines
United Airlines
US Airways

Regional/Commuter

American Eagle
Delta Connection
Southern Airways Express
United Express
US Airways Express
Vacation Express

Source: Memphis International Airport

RAIL

Jonesboro is served by BNSF and Union Pacific Railroads

Intermodal Facilities
Marion, Arkansas Intermodal Railport
Union Pacific Railroad
5500 Kuhn Road
Marion, Arkansas 72364
800-877-5123
Visit online: Union Pacific Intermodal Facility

Memphis Intermodal Facility
4814 Lamar Avenue
Memphis, Tennessee 38118
901-433-5114
Visit online: Burlington Northern Intermodal Facility

Updated October 2018

PORTS

The Port of Osceola (42 miles)
Contact: Sally Longo Wilson, Mayor
PO Box 443
Osceola, Arkansas 72370
870-563-5102

The Port of West Memphis (63 miles)
Contact: Paul Luker, Director of Planning & Development
PO Box 1728
West Memphis, Arkansas 72303
870-732-7500

The International Port of Memphis (65 miles)
Contact: Randy Richardson, Executive Director
1115 Riverside Blvd.
Memphis, Tennessee 38106
901-948-4422

Source: Arkansas Waterways Commission & International Port of Memphis, October 2018