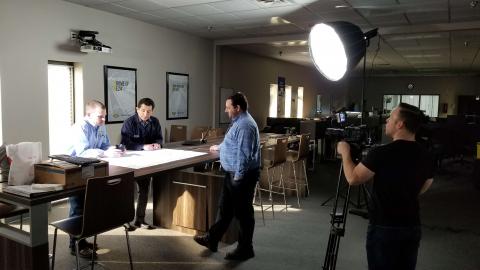 February 13, 2020-- Jonesboro Unlimited has launched a new video series called, Jonesboro: Here and Invested.  The videos are designed to help attract highly-skilled people to Jonesboro. The videos feature people who have recently moved to Jonesboro from much larger cities.  The videos feature people from Trinity Rail, Hytrol, and the NYIT College of Osteopathic Medicine at Arkansas State University.  They tell their stories of how they were unfamiliar with Jonesboro and how they have discovered what a special place Jonesboro is.
"It's always good to get a fresh perspective on what your community has to offer people who are considering moving here. When someone comes to Jonesboro sight unseen, and you realize we are making a good first impression, that can be impactful.  The people who shared their stories with us are proud to call Jonesboro home. They have become great ambassadors for Jonesboro," said Mark Young, President, of Jonesboro Unlimited.
Jonesboro Unlimited will employ a highly targeted strategy with the videos, selecting certain markets and demographics.  The videos will primarily be distributed through social media.
The video series was created by Jonesboro Unlimited's Director of Communications, Craig Rickert, and produced by Workhorse Creative Productions of Jonesboro.  The stories are posted on youtube, and Jonesborounlimited.com.