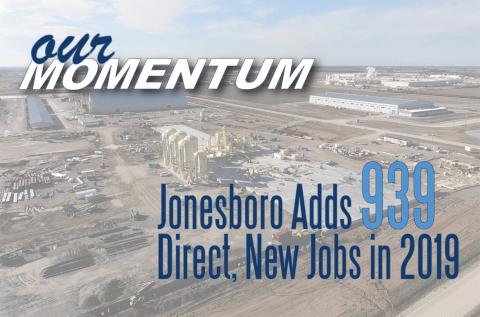 Jonesboro, AR, [Date]– Jonesboro Unlimited is pleased to announce the addition of 939 new full-time jobs in 2019.  With the 939 new jobs, the goal of creating 2,500 direct, new jobs in five years has been surpassed in just three years.  To date, over 3,000 high-paying jobs have been created across the five target industries identified by Jonesboro Unlimited as part of its five-year strategic plan.  Those target industries include agriculture, healthcare, logistics, manufacturing, and professional services.
The job numbers come from Jonesboro Unlimited's Annual Inventory of New and Expanded Industries and represent responses from nearly 100 local companies. The most significant gains were in healthcare and manufacturing.  The healthcare industry in Jonesboro added 397 jobs in 2019, with 392 new jobs added in manufacturing.
"When you consistently add jobs to your economy for several years in a row, you are doing something right. To average over 1,000 direct, new jobs a year for the past three years shows how strong our local employers are and how strong our city's economy continues to be," said Mark Young, President of Jonesboro Unlimited.
Three years into the five-year plan, Jonesboro has added 3,123 high-paying jobs to the economy, passing the five-year goal by more than 600 new jobs. Positions in healthcare and manufacturing account for 84% of the total jobs created since 2017. According to the Jonesboro Unlimited survey, 2,633 jobs have been created in those two industries.
It's exciting to be able to announce today that we have already achieved one of our key goals by adding 2,500 direct new jobs to the Jonesboro's economy. While we are pleased with the progress, more work is to be done remaining dedicated to the advancement of economic prosperity in Jonesboro and throughout the region. We are meeting these goals through the commitment, dedication, and determination of our investors and local employers.  We are looking forward to another exciting year ahead,"said Chris Barber, Chairman of Jonesboro Unlimited.
The survey also revealed how local companies are reinvesting in their products, people, and services.  Capital expenditures nearly tripled from 2018 to 2019. Companies taking part in the survey reported $275M in capital spending in 2019.  Over the last three years, the total amount of capital investment in Jonesboro is nearing half-a-billion dollars at $474 million.
Jonesboro Unlimited also premiered a new video series designed to help attract highly-skilled people to Jonesboro. The videos feature people who have recently moved to Jonesboro from much larger cities.  The videos feature people from Trinity Rail, Hytrol, and the NYIT College of Osteopathic Medicine at Arkansas State University.  They tell their stories of how they were unfamiliar with Jonesboro and how they have discovered what a special place Jonesboro is.
"It's always good to get a fresh perspective on what your community has to offer people who are considering moving here. When someone comes to Jonesboro sight unseen, and you realize we are making a good first impression, that can be impactful," said Mark Young, "The people who shared their stories with us are proud to call Jonesboro home. They have become great ambassadors for Jonesboro."
The video series was created by Jonesboro Unlimited's Director of Communications, Craig Rickert, and produced by Workhorse Creative Productions of Jonesboro.  The stories are posted on youtube, the Jonesboro Unlimited Facebook page, Linkedin, and Jonesborounlimited.com.