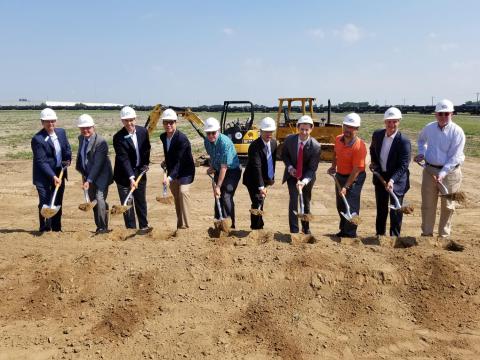 Jonesboro, AR--June 15, 2018: Construction will begin immediately on the new 125,000 square foot Risever facility in Jonesboro. On Friday, Yonggang Lai, the General Manager of Risever, along with state and local economic leaders, broke ground at the project's site in Jonesboro's Craighead Technology Park.
"It has taken six months to kick off this project after we announced our plans to invest in Jonesboro last year. In the six months, Risever has been working with our partners, Jonesboro Unlimited, City Water and Light, A2H Design Company, and Forcum Lannom Contractors. We had very effective communication and excellent cooperation," said Yonggang Lai, Risever's General Manager.  
Risever is a maker of fabrication parts for heavy equipment for manufacturers like Caterpillar, Volvo, Terex, Komatsu, and others. The new Jonesboro facility will employ 130 people when all phases are complete.  Risever, a family-owned company, was founded in 1999 and operates out of Heifei, China.  Over 1000 people work for Risever at their facilities in China.
Mark Young, the President, and CEO of Jonesboro Unlimited says Risever's and Jonesboro are a great fit.
"The addition of Risever to Jonesboro's already strong manufacturing base will further strengthen and diversify our already thriving local economy.  The creation of over 100 high-skill and high-paying jobs is good for Jonesboro and the region.  Jonesboro's location in the central United States combined with our workforce and our ability to ship goods easily to Risever's U.S. clients makes for a strong foundation for success for Risever in Jonesboro," Young said.
Phase I of the project is expected to be complete by July 2019, according to Lai.  He says Phase I will include 112,000 square feet of factory and 13,000 square feet of office space.  The first phase will also include parking lots and landscaping. At that point, Risever will begin trial production work.
"We expect to reach an annual production capacity of 6,000 tons of heavy steel fabrication in phase one," Lai said.
In the next five years, Risever plans to invest $20M and create 130 new jobs in Jonesboro. The facility will target annual production capacity of 18,000 tons of steel when all phases of production are complete. 
For more information about Risever, please download the information packet under "related files" on the right side of this page.